⏳ The TL;DR.
Solvvy, Pacific Western Bank, Debrief, Tango, MyFitnessPal, bit.io and more made great hires on Braintrust last week
The network tied its record for most hires in a week at 15
A new client story about Stanley Black & Decker hiring 10 Braintrust Talent launched
The Braintrust Community is running recurring Talent development events to help freelancers land jobs - and they're working
Braintrust is hiring for a Community Manager, Social Media Manager, and a Technical Sourcer. Refer a friend!

💡 The WYSC (why you should care).
Hiring is good for everyone in the Braintrust network. Whether you're the one hiring or the one getting hired, it's all good. That's obvious.

But what's really exciting is that these hiring trends mean Braintrust is growing. More jobs attract more Talent, more Talent attract more jobs, and the network continues to grow in both size and value. And that growth means more people can participate in and benefit from the incredible opportunities this network provides.

And that is good for everyone, too.

💸 Client Updates.

A few clients who have recently hired freelancers on Braintrust!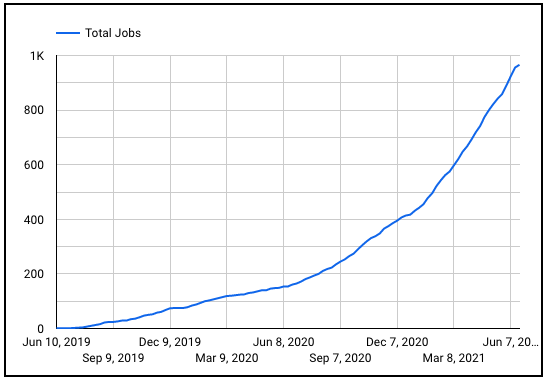 Total jobs on Braintrust over time.

This week, Braintrust tied the overall record for most number of Talent hired in a single week at 15! Check the next section for a spotlight on a few 😀

Hiring is in the air right now and it is a great time to apply for a job on Braintrust. Here are just a few of the recently opened roles:

🦄 Network Growth.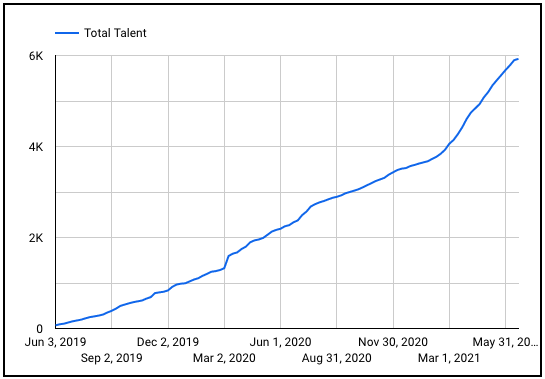 How the Braintrust network has grown.
Check out these other key growth metrics from last week:
56 new approved Talent added
182 proposals submitted
15 Talent hired
And remember that fill-rate business from a few weeks back? It looks like June is about to hit a 45% job fill rate! For anyone new, that's right on target.

Last week was a big week for hires. Let's highlight a few of those amazing Talent who landed jobs! Take a look at their profiles for inspo on how to craft your personal work story to be compelling to a client:
Marc McDougall, a Senior Product Designer with Solvvy
Ven Reynolds, a Senior Product Designer with Pacific Western Bank
Steven Lee, a Front-End Developer (Typescript + React) with Debrief

📝 Hot Off the Presses.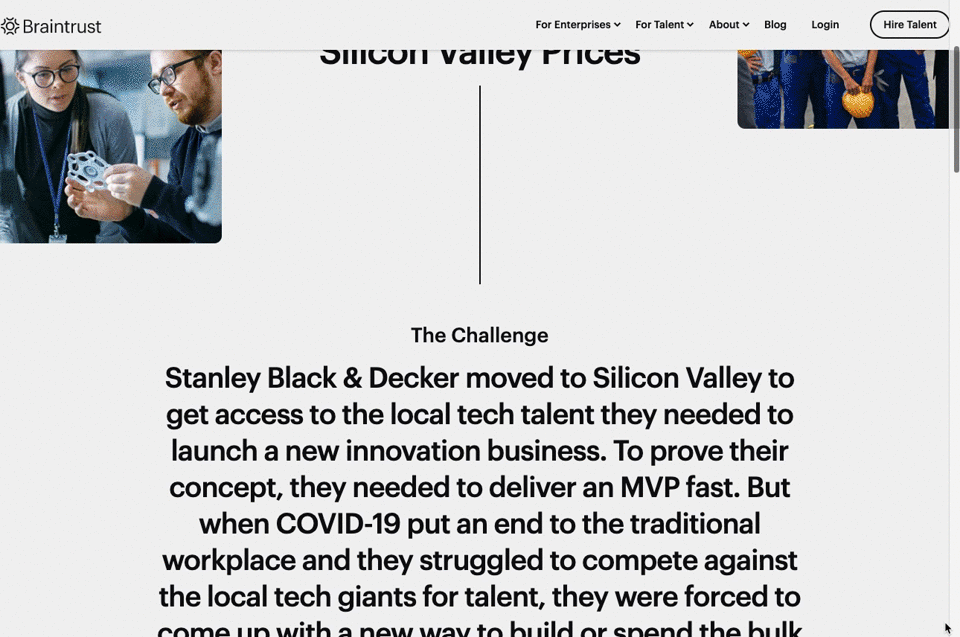 There is no more talent in Silicon Valley.

That's the reality that Stanley Black & Decker was in. They'd just moved to Silicon Valley to gain access to business-accelerating Talent, and then COVID hit… and talent was nowhere to be found. There was no one to hire.

Enter Braintrust. The network matched Stanley Black & Decker with world-class talent all over the globe and helped them hire and start within 2 weeks. Their success is pretty phenomenal - just check the numbers:
They hired 10 freelance Talent on Braintrust
They saved an impressive 40% in fees
The new team was able to deliver projects 3 months ahead of schedule
Click here to read the whole story!

👪 Community Spotlight.
Braintrust is a great place for freelancers to find and land great jobs. But that's only part of the value that members of this network receive.

The Braintrust Community is also a place for learning, development, and teamwork. That's why Braintrust is hosting regular profile reviews, proposal reviews, and interview practice sessions to help freelancers get hired.



The 1:1 development attention freelancers get on Braintrust.
And the results? These sessions are making a huge difference to help Talent get hired!

What else is going on in the Talent world? Well, the Community team is making improvements to the Braintrust Talent Discord and building out additional Community infrastructure. These are all part of bigger initiatives to make Braintrust an even more welcoming, helpful, and easily navigable space for freelancers everywhere.

🏛️ Network Infrastructure.
There's been a lot of talk about Governance lately - betas, betas, and more betas. And in fact, the Governance Beta is still ongoing! But, it might be helpful to get an overview of what the entire process looks like…. That's where the new Governance page comes in.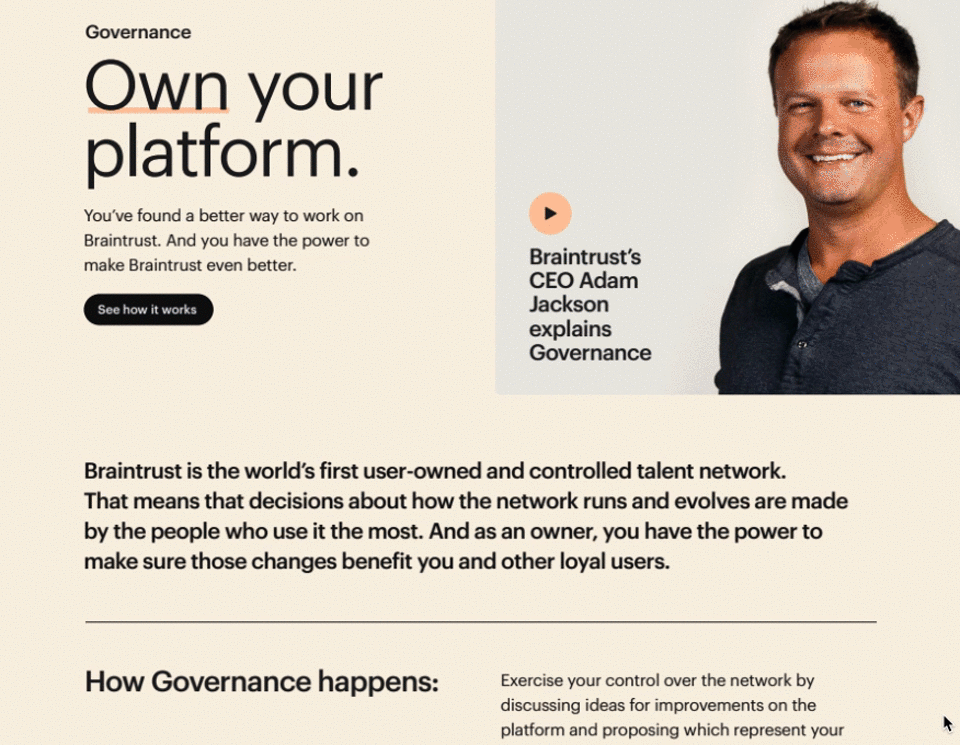 Here's a sneak peek at the design. It breaks down the 4 phases of Governance:
Ideate
Vote off-chain
Vote on-chain
Execution
If you're curious (or confused) about any of that, be sure to tune in next week to see this page live! It will answer a LOT of questions.

After Governance, the number one priority for Infrastructure is building the Knowledge Base! Here's how that's going:
CMS: V1 development complete
Production: launch this week
Support articles: in draft mode
Team spirit: All-time high (who doesn't love a support doc??)

💻 Product Improvements.
All aboard for jobs!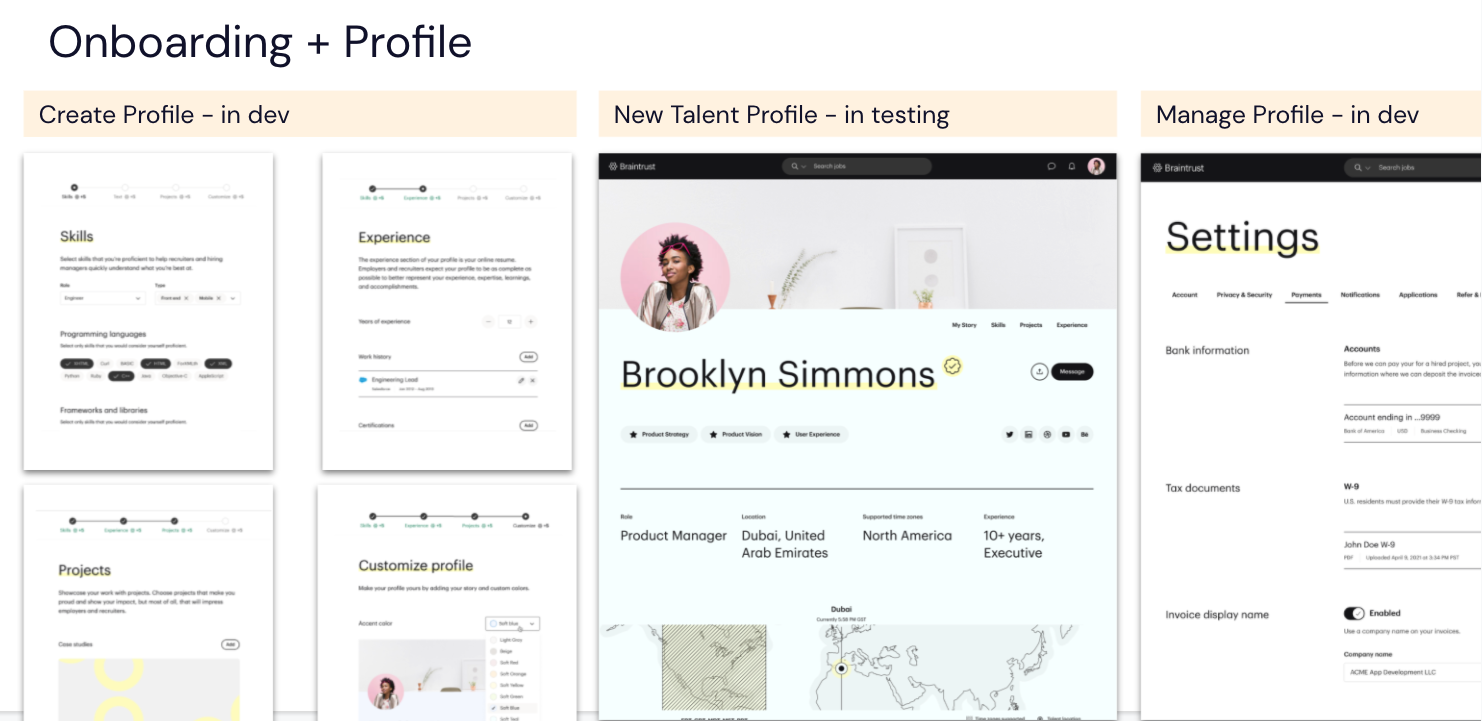 A peek at the onboarding flow in progress.
Nothing beats a first impression. And Braintrust's first impression is about to level-up. Product is focusing on major improvements to onboarding and profile creation, creating a smoother, faster, and more appealing experience than what exists now. Prepare to be dazzled.

And that's not all. Product is turning to the Community itself to gather feedback about how to improve these (and other) processes by conducting:
Referral Talent interviews. Why do you refer? Why don't you refer? What would incentivize you to refer?
Sign Up & Onboarding Interview: How do you learn about Braintrust? What are your expectations when signing up? Why do you complete (or not complete) the sign up process?

👤 Braintrust HR + Culture Updates.
Hr + Culture is still out of office, and things are looking bleak. People are fighting left and right. All hell is breaking loose on Zoom. Nobody can figure out how to log into the company's LinkedIn account. The CEO left for New York last week and no one's seen him since.

….just kidding 🙃 Everyone is doing great, or whatever adjective this weird array of emojis describes.


And hiring is still on! Do you know someone who might be a good fit for the following roles?

🚩 Weekly challenges and red flags.
It's great to be excited about big wins. But those big wins also are a sign that Braintrust is growing, and the team needs to re-calibrate goals to reflect that growth. Basically, that means the team is celebrating these big wins, and then buckling in for bigger challenges to come.