In a recent dialogue with Matt Greenberg, a seasoned tech executive with a rich history in the tech sector, we explored the nuances of the job market, extracting invaluable insights about job applications, the evolving nature of workplaces, and how professionals can navigate the changing landscape of employment.
Now advising at Swoogo, Matt's leadership has spanned roles such as CTO of Reforge, where he managed teams across Product, Design, Data, and Engineering. His tenure at Credit Karma also highlights his significant impact on the Bay Area's tech community. As their VP of Engineering, he expanded the team from 200 to over 1500, spearheading initiatives from revamping core services to broad international expansion.
The Power of Referrals
One of the primary takeaways was the unparalleled potency of referrals. Echoing our previous fireside chat with Andrew Heywood, a former Google recruiter and current Roblox executive, referrals can catapult your application to the top of a pile. The logic is straightforward: in an era where AI bots scan thousands of resumes, a referral stands as a human touchpoint, a mark of trust that indicates a candidate's potential value.

Moreover, having unique life experiences or a background that demonstrates resilience under pressure (e.g., an EMT) can make an applicant more appealing to recruiters. Such experiences are often perceived as evidence of an individual's ability to remain calm under stress and uncertainty, a trait valued in many high-pressure job roles.
Standing Out in the Crowd
With companies often being overwhelmed with thousands of applications, the challenge for many professionals is differentiating themselves from the masses. A proactive approach is essential. Instead of solely relying on traditional application methods, consider reaching out directly to hiring managers via platforms like Braintrust or LinkedIn. Showcase your passion, experiences, and drive, making it clear why you're a standout candidate.
Understanding the Market Climate
A key theme of our conversation was the importance of comprehending the current job market's climate. Matt pointed out that venture capital funding patterns have shifted, with most funding now targeting early-stage startups. This change impacts hiring dynamics, with companies becoming more conservative in their recruitment drives. As a testament to this, a recent PwC Capital Markets Watch highlights that:
"The US venture capital (VC) market raised $31 billion in the third quarter of 2023, continuing a decline from 2021 highs. Notably, artificial intelligence continues to dominate the headlines with $7 billion raised. And out of the 63 mega-rounds, AI and machine learning companies have comprised 18."
These figures underline the changing dynamics of the VC market.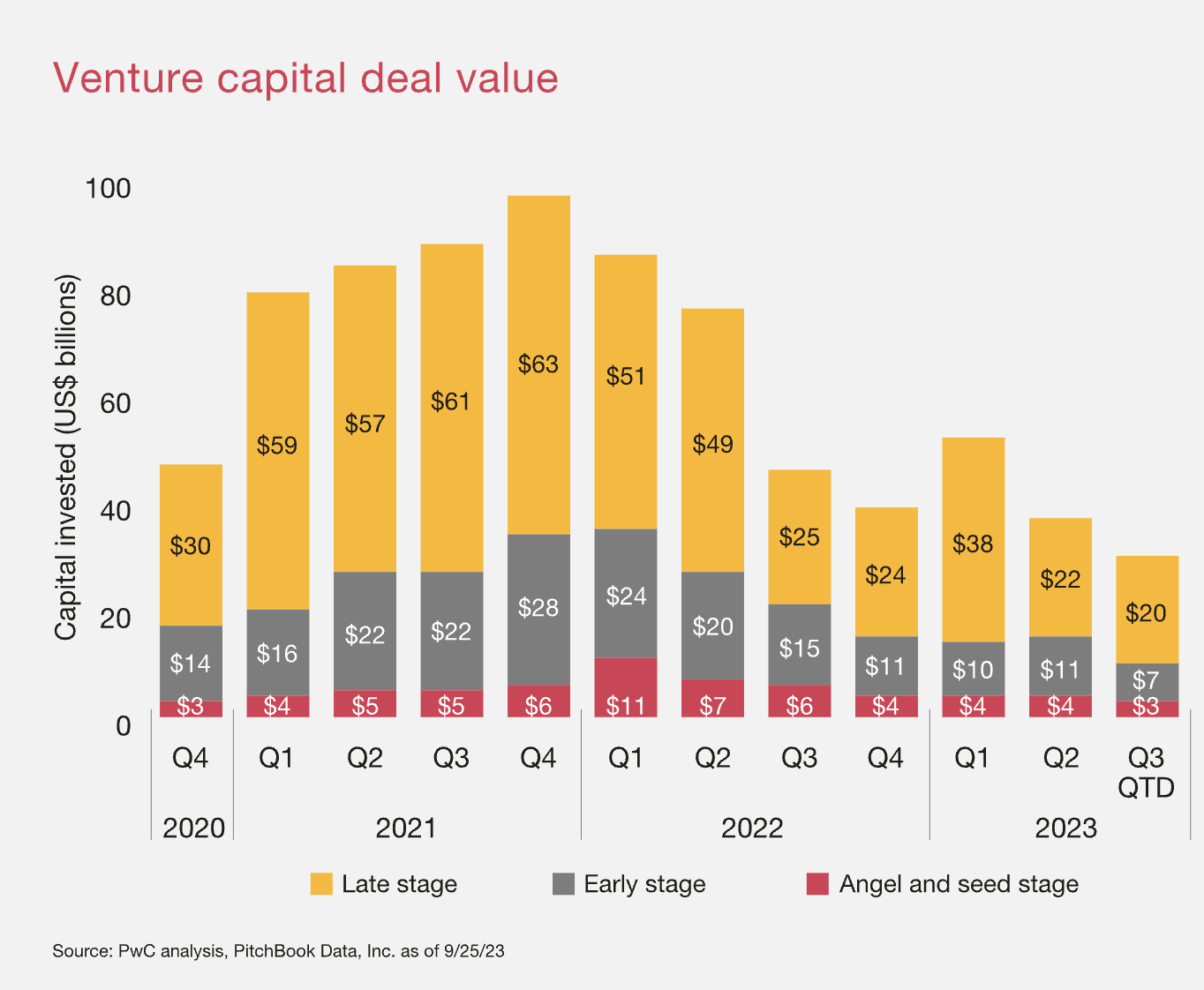 To successfully navigate this, professionals should:
Research Company Dynamics:

Understand a company's funding status, the longevity of its runway, and the significance of the role you're applying for. Notably, with

"about 700 unicorns in the US... and the trend of high-profile unicorns taking down rounds ahead of a potential exit,"

the market's landscape is crucial to grasp.

Adapt to Changing Expectations:

With compensation generally on a downward trend, especially as

"management teams and their financial sponsors are beginning to recognize the new normal for lower valuations,"

it's crucial to keep expectations realistic and aligned with the current market dynamics.

Persistence is Key:

With fewer roles on the market, persistence and resilience are crucial. Approach every application with dedication and focus, ensuring you're presenting your best self.
The Rise of Hybrid Roles
A fascinating trend we touched on was the rise of hybrid roles in the job market. Post-pandemic, companies are grappling with balancing the flexibility of remote work with the collaborative benefits of an in-office environment. As such, hybrid roles offer a blend of both and are becoming increasingly prevalent.
However, it's not just about flexibility. Matt emphasized that hybrid models aim to maintain company culture, empathy, and the invaluable interpersonal connections often lost in fully remote settings. For professionals, this means being adaptable and open to new working modalities, ensuring they can thrive regardless of the environment.
In support of this, Dr. Gleb Tsipursky in the Forbes article "The Surprising Rise Of Hybrid Work" observes:
"Like a phoenix rising from the ashes of outdated office norms, hybrid work is flourishing and leaving full-time office work in the dust. According to a recent Littler Mendelson PC report, over 70% of US employers are now embracing hybrid work models, proving that flexible work arrangements are more than just a passing fad. As the pandemic retreats, this trend solidifies its position as the new normal."
This perspective aligns with our discussion, highlighting the significant momentum that hybrid roles have gained in the contemporary job market.
In Conclusion
The job market is undeniably complex, influenced by myriad factors, from funding trends to technological innovations. However, by understanding these dynamics, staying proactive, and adapting to changing environments, professionals can significantly enhance their chances of success.
Remember, in today's professional climate, it's not just about qualifications but also about demonstrating adaptability, resilience, and a genuine understanding of the broader market landscape. For those seeking a detailed account of the webinar's discussions, Deb Shell, one of our community members, has compiled comprehensive notes, which you can access here.
Make sure to also keep an eye on our jobs page for the latest openings in your field, as well as to check Career Help for questions and answers that can guide your journey. With these resources and insights, you're better equipped to forge a path to success in your chosen field.