At Braintrust, we believe in the power of collaboration and empowering others to succeed. Help build the Braintrust community and make a positive impact on both companies and talent when you refer Braintrust to your network!
Ready to elevate your referral game and make a positive impact on both companies and talent? To help you maximize your earning potential while making meaningful connections, we've compiled the top 10 tips for making effective referrals.
Top 10 Tips To Maximize Your BTRST Earnings through Referrals
Tip 1: Identify the Perfect Fit
Keep an eye out for companies seeking top-notch tech talent across diverse industries. From skilled engineers to innovative designers and strategic product managers, opportunities abound. Whether it's early-stage startups, cutting-edge crypto projects, or established giants like Nike or Goldman Sachs, we've got the talent pool each company needs to succeed in hiring fast.
Tip 2: Make It Personal
When introducing Braintrust to your network, go beyond the generic and share why you believe in our vibrant community. Highlight the unique benefits of our platform. Your genuine recommendation can make a significant impact.
Tip 3: Leverage Success Stories
Stories are powerful tools for inspiration. Share remarkable achievements from companies like Nestle and TaskRabbit who have flourished after joining the Braintrust network. It's the proof your contacts need to take action!
Tip 4: Be Specific with Your Ask
Clarity and brevity are key to prompt action. Provide a clear and concise prompt when introducing Braintrust to hiring managers. Here's a sample you can use:
Hi [Hiring Manager's Name],
I came across Braintrust, a talent network that connects companies like yours with top tech professionals. I think it could be a game-changer for your hiring needs. Check it out using my referral link below and discover exceptional talent, fast.
Referral Link: [INSERT YOUR UNIQUE REFERRAL LINK]
Let me know if you have any questions or need further information!

Best regards,
[Your Name]
Tip 5: Cultivate Your Network
Invest time in nurturing your professional relationships. Attend industry events, virtual meetups, and networking events to expand your circle of contacts. A strong network increases your chances of finding perfect matches for Braintrust.
Tip 6: Tailor Your Recommendations
Each company has unique needs. When referring, tailor your recommendations based on the specific roles they are hiring for. A personalized approach shows that you genuinely care about their success and increases your success.
Tip 7: Be an Advocate
Advocate for the benefits of working with the Braintrust network. Emphasize the advantages of gaining access to a community of skilled professionals from around the globe at the lowest fees in the industry.
Tip 8: Highlight Time and Cost Savings
Make sure to mention how Braintrust streamlines the hiring process and saves both time and resources. Hiring managers will appreciate the efficiency and cost-effectiveness of our platform.
Tip 9: Follow up and Follow Through
Your referral doesn't end with a simple introduction. Check in with the hiring manager after they've had a chance to explore Braintrust. Offer assistance, answer questions, and provide ongoing support to ensure a smooth experience.
Tip 10: Lead by Example
Set the bar high by actively participating in the Braintrust community yourself. Showcase your own projects, collaborate with talented individuals on The Professional Network, and share your success stories. Your enthusiasm will be contagious, inspiring others to follow your lead.
Share Your Referral Link
Your unique referral link is your gateway to earning BTRST and connecting your network with top-notch talent. Don't forget to include it in your email or message to hiring managers. Get your unique link from the Earn Page on your dashboard and start sharing today!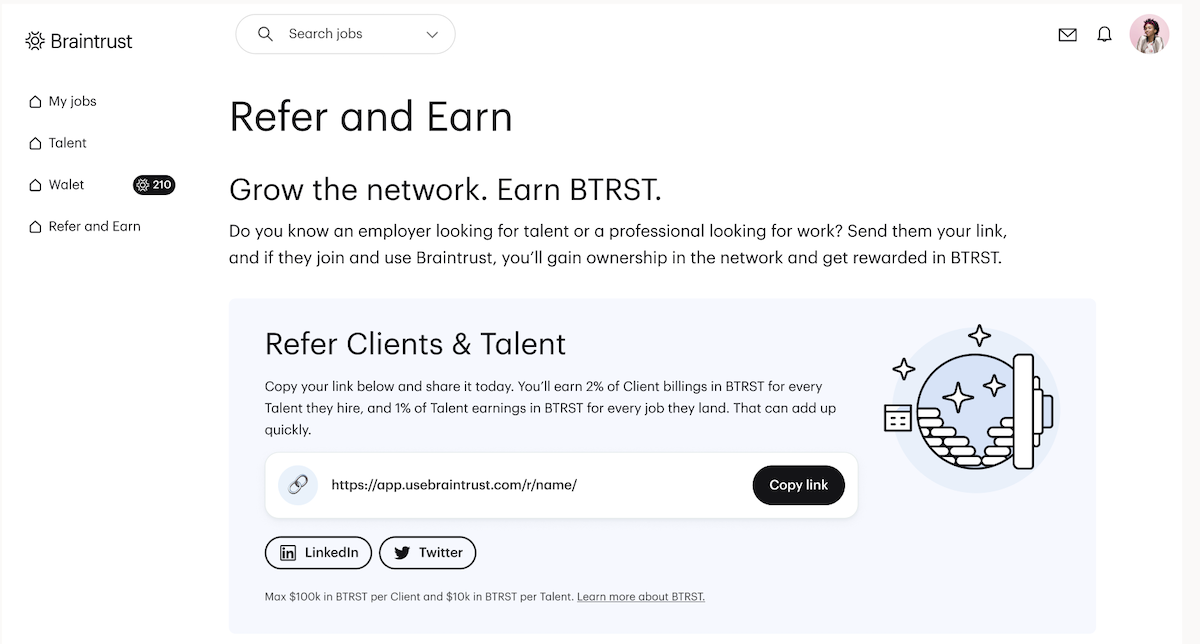 Earn 2% of billings in BTRST for each client you refer (up to $100k per client) and 1% of billings for every talent you refer up to $10k per talent to Braintrust!
Together, let's build a thriving Braintrust network that nurtures talent and transforms businesses. Get started with these tips, and watch your impact grow! Do you have any tips to share? Share your tips on the Professional Network today!
Be a Referral Superstar
By applying these ten powerful tips, you'll become a referral superstar, making a lasting impact on the Braintrust network and earning well-deserved recognition as a champion for talent and success. Together, we'll build a future where innovation thrives and opportunities are boundless!
Want to learn more? Check out our network dashboard and Kurt Daradic's Connector Spotlight!