It's time to build.

Today, Braintrust announced a private BTRST token sale of $100 million led by Coatue with participation from Tiger Global, True Ventures, Hashkey, Blockchange Ventures, and other early backers.

This news comes after Braintrust established itself as the fastest growing Web3 network over the last 18 months.

Since coming out of stealth in June 2020…
Gross Services Volume (GSV) grew by 2,250%, from $1.2M to $28.2M.
The number of enterprises (Clients) jumped 752%, from 63 to 474.
Job-seekers (Talent) flocked to the platform growing from 2,194 to 36,000+.
The network's Community grew 70x from 10,000 to over 700,000.

Braintrust has exceeded all growth expectations, and confirms the user-owned, decentralized talent network's mission to spread economic opportunity more equitably around the globe.

While the network strategically began by revolutionizing work in the $5.3 trillion global tech industry, its future is in all industries employing top knowledge workers who want to own the value that they create— everywhere from management consulting, law and accounting, to marketing, advertising and other creative services worth trillions more.

That expansive opportunity to engage the entire online global labor market drove strong interest for the $100M BTRST purchase in the wake of the governing token's introduction on Coinbase and CoinList in September. The engagement from Coatue and Tiger Global, with participation by True Ventures, Blockchange Ventures, HashKey, and other early backers of the project, will allow Braintrust to leverage the expertise of those highly strategic partners to help build the decentralized network for work.



What this means for the community.
The Braintrust network grew exponentially over the last few months. With that growth comes more opportunities for the community to contribute to key network functions, from software and programming to recruitment and marketing.

The new resources will be used to grow the network and fuel rapid community-led innovation — which means seeing more of your ideas, your projects, and your impact become real on the network you make your living on.

That innovation begins with a Grants Program that will provide paid opportunities to build and contribute to the growth of the network, with further details to be announced soon.
With these contributions, the message is clear: The Ownership Economy has arrived, and it is thriving.

Why Coatue, Tiger Global?
Like Braintrust, Coatue and Tiger are both committed to global investment in the future of work. They are two of the biggest, most prominent technology investment firms, with deep experience in backing web-focused late-stage and public companies — making their backing of BTRST a significant validator for Braintrust's innovative Web3 network model.

Most importantly, their contributions will span far past their financial investments.

Tiger Global manages $80B, with key investments including Coinbase, Stripe, Quora, Gitlab, and Flipkart, with BTRST being its first token purchase. Tiger was a key player in building Web2 marketplaces, and will be a major player in building Web3 by using its deep industry knowledge and global connections to support the Braintrust network.

Coatue manages $48B, and has backed Spotify, Instacart, Doordash, Chime, and other transformative projects, with BTRST being only its second token-related investment. Coatue brings deep expertise in talent recruitment, and, in addition to becoming a client on Braintrust, will be collaborating on new network products and features built for recruiters.

What this means for governance of the network.
Braintrust remains a user-owned, decentralized talent network, with each BTRST token representing one vote. BTRST holders own the value of their work, can stake their tokens and can propose and vote on key changes on the network.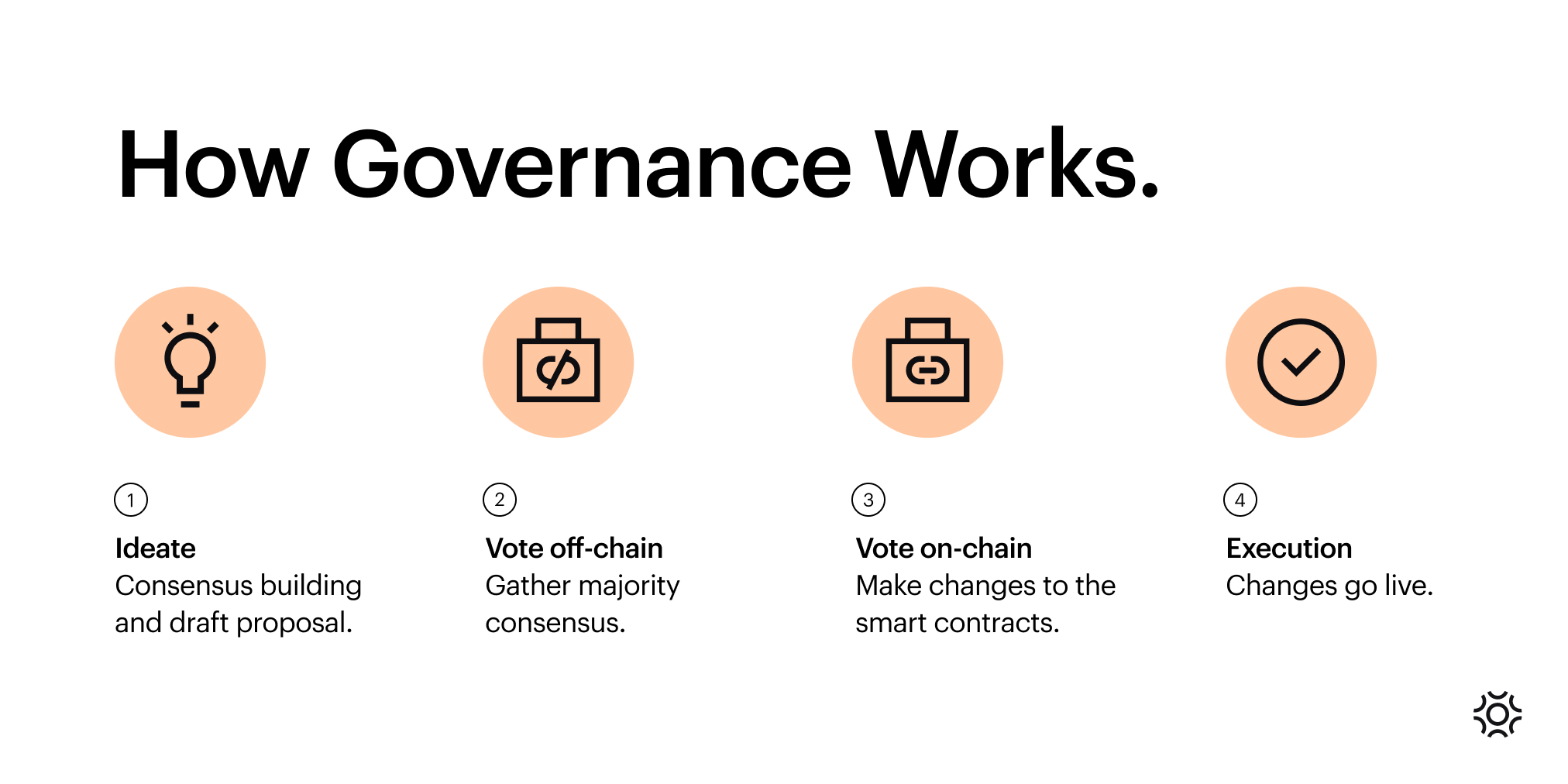 The purchasers in this $100M round are BTRST holders, but their tokens — approximately 5% of the total supply — are on a 3-year gradual unlock schedule, beginning November 2022.

The value of Web3 and blockchain tech on Braintrust.
One of the core purposes of a distributed network is to replace a traditional rent-seeking middleman with software, and then give that value back to both sides.

With its innovative no to low-fee model and BTRST allocation process, Braintrust has delivered more value for its network participants, including...

Enterprises
Reduced the average hire time from 4 months to 2 weeks.
Increased the average hire rate from applications submitted from 1-2% to 30%.
Saved them $10M+ in fees from traditional staffing firms.

Talent
Distributed $28M to Talent located across more than 150 countries.
Saved Talent $5M+ with 0% fees as compared to Web2 marketplace take rates.

BTRST token holders and the crypto community
Launched the BTRST token on mainnet to decentralize ownership, control and governance of Braintrust.
Expanded the community through the Coinlist sale, adding 22,500 token holders from more than 122 countries.
Distributed 7.6M BTRST tokens to the community as rewards for building the network.

Building the future of work.
It's an exciting time to be part of the network as it enters this next stage of growth.

In the coming months, users can expect to see the implementation of Ambassador Grants, with rewards to those who grow the network's brand through content creation, social advocacy, campaigns, partnerships, events and other forms of creative writing.

Soon, the community will also be able to apply to Builder Grants, allowing the vast network of Braintrust engineers and developers to make technical contributions in development, design and product management on the platform.

The network will also offer Educator Grants to provide training and education for Talent to get hired, with courses offered through Braintrust Academy content, profile and proposal review sessions, interview training and other helpful events.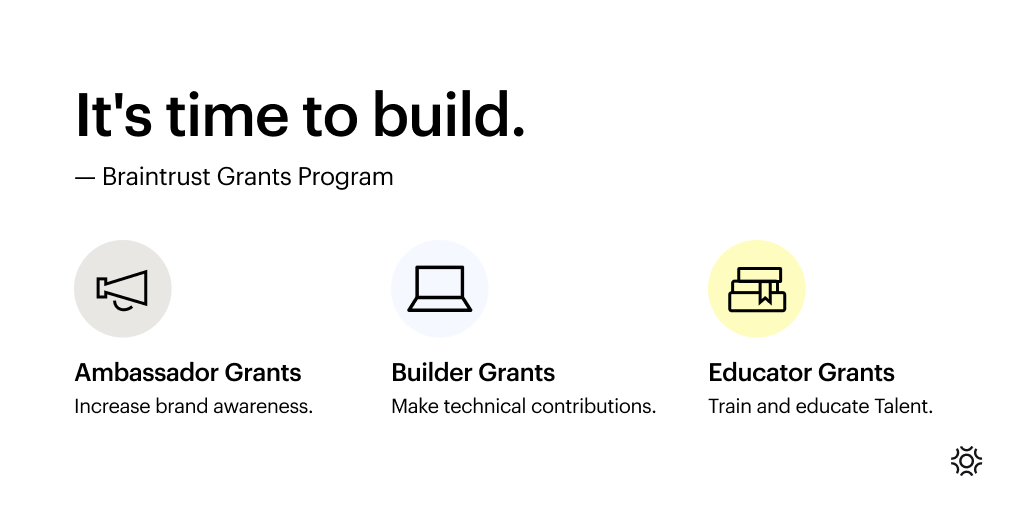 How you can get started.
Momentum is building, and early Braintrust adopters are paving the future. To make sure you don't get left behind, you can...
Sign up to be the first to be notified of the Grants Program in early 2022.
Join Discord to discuss contribution opportunities and access live bounties.
Attend Braintrust Live! on Thursday, December 16 to hear directly from Braintrust founders and the community about what this news means.