Are you ready to build a more equitable world, one where economic opportunity is spread to all talented individuals, not just a select few?
By being part of the Braintrust network, you're already contributing to that critical vision. But our mission cannot continue without the participation of our entire community.
That's why we are working so hard to build a better future of work: a user-led economy driven by Web3 decentralization. And that's also why the network is launching a new wave of grants to fuel contributions by talented community members all across the globe.
These opportunities, supported by the $100M purchase of BTRST by Coatue and Tiger Global in December, are crafted with a variety of durations and time commitments to meet the varied needs of our community.
Read on for more about this groundbreaking opportunity to make even more of your ideas, projects, and impact real on the network you own.
Introducing the MVP Wave of the Grants Program.
This initial round introduces 12 opportunities to work on projects that are essential to Braintrust's future success, divided into three types of grants.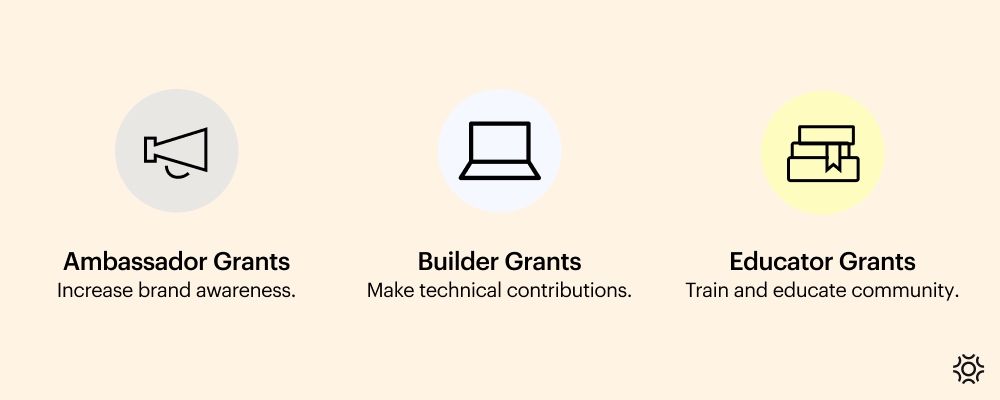 Ambassador Grants are for those who want to grow the networks' brand through content creation, social advocacy, campaigns, partnerships, events, and other forms of creative writing.
Builder Grants are for Braintrust engineers and developers who want to make technical contributions in development, design, and product management on the platform.
Educator Grants are for community members who want to provide training and education for Talent to get hired, with courses offered through Braintrust Academy content, profile and proposal review sessions, interview training, and other helpful events.
Specific projects in the MVP Wave include…
Builder Grants:
Build the future of decentralized reputations by creating a system that allows external assessors to grant badges to freelancer profiles.
Help Talent thrive on the network by developing a module addressing job-specific comments and frequently asked questions.
Drive Web3 community governance by updating the Vote page with a new user interface that includes past and present Snapshot votes.
Educator Grants:
Grow the community by recruiting, training, and launching the first batch of Community Onboarders.
Inspire the next generation of Braintrust Talent by recruiting, training, and launching the first batch of Community Mentors.
Usher in the Ownership economy by leading an educational series teaching the community about the potential of Web3.
Ambassador Grants:
Tell the world about Braintrust's success by expanding the network's social media reporting and analytics.
Envision the future of work by crafting content and graphics that position Braintrust as the decentralization leader in Web3 projects.
Expand the Braintrust brand by building the infrastructure for Ambassador programs for social media, Discord, and community membership.

Are you a perfect fit?
In particular, we're looking for members of the Braintrust community who have experience in….
Technical development:
Product Managers and Strategists.
Front-End Software Engineers.
Back-End Software Engineers.
UI/UX Designers.
Program strategy and management:
Systems Builders.
Project Managers.
Community Leaders and Organizers.
Content strategy and design:
Web3 Experts.
Senior Visual Designers.
Content Designers.
Writers and Editors.
Marketing and community Insights
Data Science and Visualization Experts.
Social Media Analytics Experts.
If these skill sets describe you, apply now

!




How we win, together.
The MVP Wave will be a critical testing ground for how the community will enroll and vet prospective grant proposals and completed projects in the future, with the lessons learned here helping scale the number and size of projects in coming quarters.
Grant programs like this embody the advantage Braintrust has over traditional, centralized models. By enrolling more of the community to build Braintrust, we can scale faster, and better, than our competitors —actively harnessing our best and brightest minds to build our network.
In fact, the MVP wave is already leading new community developments, most notably by driving the creation of the first Grants Committee to oversee the program.
From December 23 to January 1, BTRST token holders publicly voted on representatives from the Core Nodes, Talent Community, and Braintrust Backer communities to fill five committee spots for a six-month term.
The five newly elected Grants Committee members are:
Members of the inaugural committee will take an active role in developing and scaling the program, defining future member term length, and approving initial community grants, mentors, and grantees.

Time to build the Ownership Economy.
For too long, workers have been left behind by outdated models that enrich centralized owners and investors at their expense.
Decentralized efforts like Braintrust's Grants Program are ushering in the era of the Ownership Economy, giving power back to the workers and distributing value to those who actually create it.
This is your work. Your network. Your future. Come and build it with us.