Sales is essential to ANY business. Whether you're selling traditional physical products or offering digital or consulting services, sales has to drive your business model. Understanding your sales funnel can help you figure out how to acquire new customers and leads, but also identify some of the places where your customers aren't converting. In this workshop by IFundWomen's Director of Business Development, Zeina Muna, you will learn how to unlock revenue by building a well-defined sales funnel. Click here to view the slides from this workshop.
Meet Our Speaker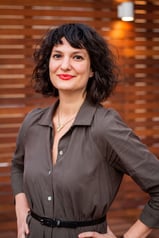 Zeina Muna, Director of Business Development, IFundWomen

Zeina Muna is the Director of Business Development at IFundWomen, and is on a mission to increase access to capital for female entrepreneurs, empowering women to start and grow better businesses. IFundWomen drives funding to startups and small businesses through a flexible crowdfunding platform with a pay-it-forward model, expert startup coaching, professional video production, and a private community for the entrepreneurs to talk openly about the challenges and the wins. iFundWomen is changing the business of how businesses launch.